Text Search


Quick Search

Your enquiry cart
is empty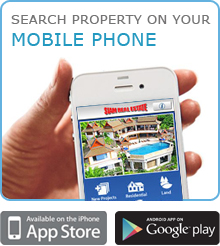 | | |
| --- | --- |
| What's New | |


| | |
| --- | --- |
| Weather Report | |


Owner's Login


Blog with expert
advice that addresses
all questions related to
Thailand property.
Read more »

Currency Converter
| | |
| --- | --- |
| Currency converters tool | |



Exchange rates


Holiday

Rental Property

Just a few minutes from the beach. [HOL4191]
Type and Location: House in Bophut, Samui
Offer Terms: Rental - Holiday
Beds: 3
Minimum rental term: 3 nights, during Christmas and New Year minimum 10 nights. See full pricing below.
Total area: 1,600 sq. m.
Summer Season
1 Jun - 30 Sep
High Season
1 Oct - 30 Nov
1 Feb - 31 May
Peak Season
1 Dec - 31 Jan
Daily
Weekly
* Monthly refers to 30 days.
How is my total rental calculated?
Rental rates vary by season and duration-of-stay. Consequently, it is necessary to look at each night of your stay and determine the applicable rate for that night.
For example, consider a 10-night stay, comprised of 4 nights in summer season and 6 nights in high season.
Since the stay is more than a week, the weekly rate will apply for all the nights of your stay. For each night, we determine the applicable season, consult the weekly rate for that season, divide that weekly rate by 7 to get a nightly rate, and add that amount to a running total.
In our example, the first 4 nights will use the summer season weekly rate (divided by 7), the last six nights will use the high-season weekly rate (divided by 7).
For a property that does not specify weekly or monthly rates, the daily rate for the applicable season is applied for each night of the stay.
About Bophut
Bophut is really two places: Bophut beach, which sweeps down several kilometres between Big Buddha and Maenam beaches and perhaps one of the oldest places on the island, the charming Fisherman's Village, which takes up the middle section of the beach. Fisherman's Village is fast gaining a reputation that stretches way beyond Samui for being the most elegant and well-preserved place on the island. Lined by old wooden Chinese shop-houses, interspaced with a few modern buildings that match the tone, it retains a distinctly Mediterranean feel.
CLICK HERE TO VIEW STREET VIEW
This holiday villa provides a sophisticated tropical retreat with a blend of modern and traditional design that exudes simplicity and natural design. Located on Bophut Hill, it is only five minutes from the cosmopolitan restaurants and bars of Bophut Fisherman's Village.
Nestled on a secluded hilltop amidst stunning tropical scenery and breath taking views of Koh Phangan, this property offers a peaceful sanctuary to unwind and relax.
The large infinity pool provides the perfect setting for taking in the stunning 260 degree views and includes a "pool safety system", imported from the US, to give families added peace of mind. The pool area is surrounded by three large patios with a double daybed, four sun beds and a large outdoor table for outdoor dining or a romantic candlelight dinner. The private walled garden features and extensive 1600 sq.m. lawn which is ideal for families with small children.
The villa itself has a covered veranda that runs along the reception room to the second private veranda of the master bedroom. The villa has a very 'home away' from home feeling and is warmly decorated with traditional Thai furniture, ornaments & paintings that are fused with modern western style furnishings. The main open plan living area is very light and airy, the space houses a 'Zen' like dining table seating eight and a comfortable sofa, coffee table & Thai handcrafted lamps, paintings & statues. The modern kitchen is fully equipped and separated from the living area by an elegant polished black stone breakfast bar counter with bar stools.
The master bedroom suite is located off the reception, with direct access to the pool. The room is comfortably furnished with a king size bed, large day bed & a generous sized dressing room with built in wardrobes. The large marble bathroom also offers a Jacuzzi tub & shower.
An open staircase leads off the reception to two large double bedrooms, one with twin beds and the other with a king size bed. These bedrooms share an interconnected bathroom with twin wash basins, a sunken mosaic tub & separate shower. Both bedrooms have stunning views over Bophut & Big Buddha Bays.
A daily continental breakfast is included free in the rental or, upon special request; we can also provide a full English Breakfast at a small nominal fee.
This luxury holiday home has a full time "western trained" English speaking villa manageress/housekeeper. The manageress can organize a large number of activities for guests, including: a candlelit beach dinner, garden BBQ, dinner party prepared by the qualified Thai Chef, massage, pedicure, manicure, sailing, car hire, boat hire and sight seeing trips.
Prices are in USD as follows:
| Bedrooms | Summer Season | High Season | Peak Season | Christmas/New Year |
| --- | --- | --- | --- | --- |
| 3 (Sleeps 6) | $350 | $450 | $500 | $750 |
Summer Season dates in 2012: 15 May - 30 Jun and 1 Sep - 14 Dec.
High Season dates in 2012: 11 - 15 Jan, 1 Feb - 31 Mar, 17 Apr - 14 May and 1 Jul - 31 Aug.
Peak Season dates in 2012: 16 - 31 Jan and 1 - 16 Apr.
Christmas/New Year dates in 2012: 15 Dec - 10 Jan.
Prices include breakfast. All daily rates are subject to 10% service charge and 7% tax, an extra bed costs $50. Specific baby equipment are available on site: bottle steriliser, baby monitor, baby gates, baby toys, high chair, travel cot. Airport transfer is available for $35 for up to seven guests. The villa manager, guest relations and concierge team are on hand to help with queries. A Thai chef is available full time.
Architectural style: Modern Thai
Structure: Two Storey Villa
Gardens: Large, landscaped
Conditions: Excellent
Accomodation
3 Bedrooms
2 Bathrooms
1 Bathroom Ensuite
Sleeps 6
Included in Rental Price
Bed linen
Towels
Maid
Gardener
Pool cleaner
Cook
TV/Cable
Permissible
Smoking

No Smoking

Children

Children

Pets

No Pets

Cooking

Cooking
Nearby
Inland
Near Beach
Near Golf Courses
Near Yacht mooring
Near Hospitals
Near Town
Near Shopping
Available Facilities
TV/Cable
Private swimming pool
Fully furnished
Parking
Kitchen Facilities
Stovetop
Oven
Microwave oven
Refrigerator
Cooking Utensils
Dishware
Cutlery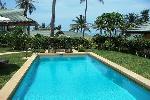 Three bedroom villas in a tropical resort. [HOL4106]
House in Bophut, Samui. From THB 12,000 per night. More info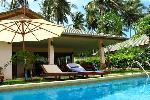 Luxury holiday rental villas. [HOL4105]
House in Bophut, Samui. From THB 13,000 per night. More info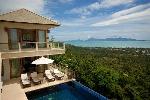 Picturesque sea and mountain views. [HOL4194]
House in Bophut, Samui. From THB 13,255 per night. More info
Prices quoted in THB are converted for your convenience only and may vary 5% or more. Currency movements are out of our control and prices may change without prior warning.