Text Search


Quick Search

Your enquiry cart
is empty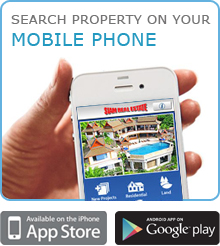 | | |
| --- | --- |
| What's New | |


| | |
| --- | --- |
| Weather Report | |


Owner's Login


Blog with expert
advice that addresses
all questions related to
Thailand property.
Read more »

Currency Converter
| | |
| --- | --- |
| Currency converters tool | |



Exchange rates


Holiday

Rental Property

In an exclusive villa estate. [HOL4170]
Type and Location: House in Bophut, Samui
Offer Terms: Rental - Holiday
Beds: From 2 to 4
Minimum rental term: 7 nights, during Christmas and New Year minimum 10 nights. See full pricing below.
Summer Season
1 Jun - 30 Sep
High Season
1 Oct - 30 Nov
1 Feb - 31 May
Peak Season
1 Dec - 31 Jan
Daily
Weekly
* Monthly refers to 30 days.
How is my total rental calculated?
Rental rates vary by season and duration-of-stay. Consequently, it is necessary to look at each night of your stay and determine the applicable rate for that night.
For example, consider a 10-night stay, comprised of 4 nights in summer season and 6 nights in high season.
Since the stay is more than a week, the weekly rate will apply for all the nights of your stay. For each night, we determine the applicable season, consult the weekly rate for that season, divide that weekly rate by 7 to get a nightly rate, and add that amount to a running total.
In our example, the first 4 nights will use the summer season weekly rate (divided by 7), the last six nights will use the high-season weekly rate (divided by 7).
For a property that does not specify weekly or monthly rates, the daily rate for the applicable season is applied for each night of the stay.
About Bophut
Bophut is really two places: Bophut beach, which sweeps down several kilometres between Big Buddha and Maenam beaches and perhaps one of the oldest places on the island, the charming Fisherman's Village, which takes up the middle section of the beach. Fisherman's Village is fast gaining a reputation that stretches way beyond Samui for being the most elegant and well-preserved place on the island. Lined by old wooden Chinese shop-houses, interspaced with a few modern buildings that match the tone, it retains a distinctly Mediterranean feel.
CLICK HERE TO VIEW STREET VIEW
Exclusive beachfront villas situated in a prestigious beachfront location, the villas combine everything you need for an unforgettable Samui experience.
The first thing you'll notice is the almost imperial wooden entrance, with heavy, carved wooden doors and a pagoda style roof. Walk through the doors and you arrive in a private luxury haven. Tropical landscaping wraps around and between each pavilion as the central pathway runs directly to the pool and a private beach access. Each pavilion is modern looking with a two-tiered wood shingle roof that provides an authentic Thai feeling and makes the property look at home in this beachfront location.
To the right of the entrance is the first double bedroom which has cool green cushions and throws contrasted with an orange painting positioned above the bed. Comfortable furniture sits on the white tiled and polished teak inlaid floor. There's a flat screen TV on an attractive stand, a dressing area and an en-suite bathroom with shower and turquoise mosaic tiles. This room has sliding glass doors to the front and rear making it a very light and airy space.Every part of the outdoor space has been expertly planted and landscaped to provide the eye with something of interest everywhere you look. This also creates a very appropriate tropical feeling.
Opposite the first bedroom is another pavilion housing bedrooms two and three. Bedroom two has twin beds, comfortable furniture, a flat Screen TV on a teak stand, a dressing area and an en-suite bathroom with shower that's finished with lilac mosaic tiles. The third bedroom has a double bed and is furnished with rich red accessories such as cushions, throws and curtains giving this a very luxurious and romantic atmosphere. Red and gold artwork and dark wood furniture add to the ambience and the room has a flat screen TV and en-suite shower room with blue mosaic tiles.
Crossing back over the central pathway there's the kitchen and dining pavilion positioned in front of bedroom one. In here redwood units are topped with high gloss black surfaces. Wooden units are complimented with natural stone walls and chrome high-end appliances. There's a long central island feature which has the sinks on the kitchen side and doubles as a raised breakfast bar on the other side. This is a very informal, social and comfortable room, there's a door leading to an outdoor Thai-style kitchen and there's also a guest bathroom.
From the kitchen rear sliding glass doors open into a wonderful water feature which fills the space between this and the main living pavilion. Stepping stones take you over the planted pond, under the wooden sala style pagoda and directly into the charming open-plan dining and living area. A large teak dining table and high backed water hyacinth chairs seat up to eight people and it matches well with the polished wooden floors. All this is complemented by sheer white drapes and bright white walls giving a contemporary yet natural ambience.
Walking through into the lounge area the floor is finished with high gloss white tiles and the furniture remains of natural materials such as wood, water hyacinth and plush cream cottons. There's a wall-mounted flat screen TV and tasteful artworks and ornaments.
On the opposite side of the pathway is the master-suite. It's a detached pavilion with a beautiful teak four-poster bed complete with romantic white drapes. This bright and cheerful room is accessorised with greens and oranges which breathe life into the teak and comfortable furniture. A flat screen TV occupies a corner unit. There's a dressing area and heavy sliding wooden doors leading into a phenomenal en-suite bathroom. Directly opposite the doors is a recessed area lined with natural sandstone. There's a clear skylight and a raised bathtub from where you can lie and look directly through the bedroom and out to the ocean. To the left of the bathtub there are twin sinks and to the right is a walk in shower area with brown mosaic tiles and a tropically planted inner-garden.
Running across the front of the master-suite and the living pavilion is a decked sun terrace, blue tiled infinity swimming pool and a large sala with all-weather outdoor furniture which is approached via stepping stones sunken into the pool. From there steps lead down to the private beach access and directly onto the white sand of Bo Phut beach.
Situated near the very end of Bo Phut beach, this lovely stretch of sand remains extremely peaceful and free from the sellers and tourists from the resorts further along the bay. This is a secluded and tranquil spot, the villas provide the ultimate accommodation to enjoy a beachfront stay on the island. Intimate and very private properties, well designed to maximise the amazing beachfront location and provide a luxurious environment in a natural, tropical setting.
Discounted rates are available for reduced occupancy, see full price list below:
| Bedrooms | Summer Season | High Season | Peak Season | Christmas/New Year |
| --- | --- | --- | --- | --- |
| 4 (Sleeps 8) | $1,100 | $1,100 | $1,200 | $1,750 |
| 2 (Sleeps 4) | $750 | $750 | N/A | $1,750 |
Summer Season dates in 2012: 15 May - 30 Jun and 1 Sep - 14 Dec.
High Season dates in 2012: 11 - 15 Jan, 1 Feb - 31 Mar, 17 Apr - 14 May and 1 Jul - 31 Aug.
Peak Season dates in 2012: 16 - 31 Jan and 1 - 16 Apr.
Christmas/New Year dates in 2012: 15 Dec - 10 Jan.
Prices include breakfast. All daily rates are subject to 10% service charge and 7% tax, an extra bed costs $50 per night. A baby cot and high chair can be provided free of charge. Airport transfer is $35 plus tax per trip for up to seven guests. The villa manager, guest relations and concierge team are on hand to help with queries. A Thai chef is available full time.
Architectural style: Contemporary Tropical
Structure: Single Storey Villa
Gardens: Landscaped
Conditions: Excellent
Accomodation
4 Bedrooms
5 Bathrooms
4 Bathrooms Ensuite
Sleeps 8
Included in Rental Price
Bed linen
Towels
Maid
Gardener
Pool cleaner
Cook
TV/Cable
Internet
Permissible
Smoking

No Smoking

Children

Children

Pets

No Pets

Cooking

Cooking
Nearby
On Beach
Near Beach
Near Golf Courses
Near Yacht mooring
Near Hospitals
Near Town
Near Shopping
Available Facilities
TV/Cable
Internet
Private swimming pool
Estate security
Fully furnished
Parking
Kitchen Facilities
Stovetop
Grill
Oven
Microwave oven
Refrigerator
Cooking Utensils
Dishware
Cutlery
Prices quoted in THB are converted for your convenience only and may vary 5% or more. Currency movements are out of our control and prices may change without prior warning.