Text Search


Quick Search

Your enquiry cart
is empty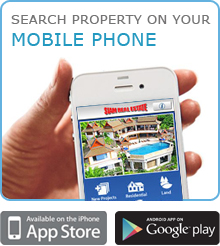 | | |
| --- | --- |
| What's New | |


| | |
| --- | --- |
| Weather Report | |


Owner's Login


Blog with expert
advice that addresses
all questions related to
Thailand property.
Read more »

Currency Converter
| | |
| --- | --- |
| Currency converters tool | |



Exchange rates


Holiday

Rental Property

A stunning villa in a stunning loaction. [HOL4239]
Type and Location: House in Maenam, Samui
Offer Terms: Rental - Holiday
Beds: From 3 to 5
Minimum rental term: 3 nights in Summer Season, 7 Nights in High Season
Internal area: 515 sq. m.
Total area: 1,235 sq. m.
Summer Season
1 Jun - 30 Sep
High Season
1 Oct - 30 Nov
1 Feb - 31 May
Peak Season
1 Dec - 31 Jan
Daily
Weekly
* Monthly refers to 30 days.
How is my total rental calculated?
Rental rates vary by season and duration-of-stay. Consequently, it is necessary to look at each night of your stay and determine the applicable rate for that night.
For example, consider a 10-night stay, comprised of 4 nights in summer season and 6 nights in high season.
Since the stay is more than a week, the weekly rate will apply for all the nights of your stay. For each night, we determine the applicable season, consult the weekly rate for that season, divide that weekly rate by 7 to get a nightly rate, and add that amount to a running total.
In our example, the first 4 nights will use the summer season weekly rate (divided by 7), the last six nights will use the high-season weekly rate (divided by 7).
For a property that does not specify weekly or monthly rates, the daily rate for the applicable season is applied for each night of the stay.
About Maenam
The tranquility of Maenam still continues to draw those in search of peace and quiet, retaining its old Samui character. Maenam is home to both backpackers and well heeled guests. Some of Samui's most expensive new deluxe resorts can be found here, providing top class restaurants and spas.
CLICK HERE TO VIEW STREET VIEW
Enjoy beach front living at it's best in this beautiful holiday villa. Relax in style with every need taken care of. Located on the picturesque north coast of Samui.
Entering the five bedroom villa brings you into a world where the contemporary and the traditional blend seamlessly. Three pavilions form a courtyard around an exquisite pool that guides the eye towards views of the sea and the island of Koh Phangan. To the rear is a large family bedroom comprising of a double and two twin beds, while a doubled bedroom, and the master suite are in the pavilion to the right of the pool.
In the pavilion opposite a fully fitted kitchen leads in to the open-plan dining and living room. Teak furniture and polished wood floors are featured throughout. All bedrooms encompass an outdoor shower.
The open-air lounge has a built-in bar counter with stereo system and speakers located in Sala which is iPod and laptop compatible. There is also dining seating for ten people.
The property boasts a luxurious interior with exposed timber ceilings, teak and sandstone flooring. Outside, the 25m of absolute beach frontage is a stunning scene.
Rental rates are in USD, breakfast is included, an extra bed is available for $50 per night, a baby cot is also available. One way airport transfer is included.
| Villa | Summer Season | High Season | Peak Season | Christmas/New Year |
| --- | --- | --- | --- | --- |
| 5 Bedrooms/Sleeps 10 | $1,271 | $1,452 | $1,634 | $1,914 |
| 3 Bedrooms/Sleeps 6 | $1,029 | $1,210 | $1,634 | $1,914 |
Summer Season 2012: 15 May - 30 June and 1 September - 14 December.
High Season 2012: 11 - 19 January, 1 February - 30 March, 16 April - 14 May and 1 July - 31 August.
Peak Season 2012: 20 - 31 January and 31 March - 15 April.
Christmas/New Year 2012/13: 15 December 2012 - 10 January 2013.
Thoughtful additions include ceramic bottles with Erb products, which is a leader in Spa products, 100% cotton robes and slippers, mini safes, large golf umbrellas, international electrical adapters, hair dryer and torch. Security includes motion sensor infra-red cameras on all external boundaries, which are monitored 24/7 and an evening guard patrol from 7:00pm – 7:00am. A villa manager is available to address any queries.
Architectural style: Thai Contemporary
Structure: Single Storey Villa
Gardens: Landscaped
Conditions: Excellent
Accomodation
5 Bedrooms
7 Bathrooms
5 Bathrooms Ensuite
Sleeps 10
Included in Rental Price
Bed linen
Towels
Maid
Gardener
Pool cleaner
Airport transfer
TV/Cable
Internet
WiFi
Estate charges
Water
Gas
Electricity
Permissible
Smoking

Smoking

Children

Children

Pets

No Pets

Cooking

Cooking
Nearby
On Beach
Near Beach
Near Golf Courses
Near Yacht mooring
Near Hospitals
Near Town
Near Shopping
Available Facilities
TV/Cable
Internet
WiFi
Private swimming pool
Estate security
Fully furnished
Parking
Kitchen Facilities
Stovetop
Grill
Oven
Microwave oven
Refrigerator
Dishwasher
Cooking Utensils
Dishware
Cutlery
Prices quoted in THB are converted for your convenience only and may vary 5% or more. Currency movements are out of our control and prices may change without prior warning.
Page viewed 1,386 times, 0.3 views/day.