Text Search


Quick Search

Your enquiry cart
is empty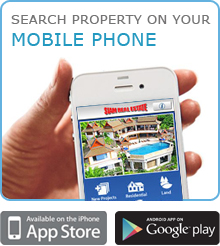 | | |
| --- | --- |
| What's New | |


| | |
| --- | --- |
| Weather Report | |


Owner's Login


Blog with expert
advice that addresses
all questions related to
Thailand property.
Read more »

Currency Converter
| | |
| --- | --- |
| Currency converters tool | |



Exchange rates


Holiday

Rental Property

A cool, modern environmentally friendly villa. [HOL4201]
Type and Location: House in Maenam, Samui
Offer Terms: Rental - Holiday
Beds: From 2 to 3
Minimum rental term: 3 nights, during Christmas and New Year minimum 10 nights. See full pricing below.
Summer Season
1 Jun - 30 Sep
High Season
1 Oct - 30 Nov
1 Feb - 31 May
Peak Season
1 Dec - 31 Jan
Daily
Weekly
* Monthly refers to 30 days.
How is my total rental calculated?
Rental rates vary by season and duration-of-stay. Consequently, it is necessary to look at each night of your stay and determine the applicable rate for that night.
For example, consider a 10-night stay, comprised of 4 nights in summer season and 6 nights in high season.
Since the stay is more than a week, the weekly rate will apply for all the nights of your stay. For each night, we determine the applicable season, consult the weekly rate for that season, divide that weekly rate by 7 to get a nightly rate, and add that amount to a running total.
In our example, the first 4 nights will use the summer season weekly rate (divided by 7), the last six nights will use the high-season weekly rate (divided by 7).
For a property that does not specify weekly or monthly rates, the daily rate for the applicable season is applied for each night of the stay.
About Maenam
The tranquility of Maenam still continues to draw those in search of peace and quiet, retaining its old Samui character. Maenam is home to both backpackers and well heeled guests. Some of Samui's most expensive new deluxe resorts can be found here, providing top class restaurants and spas.
CLICK HERE TO VIEW STREET VIEW
This property takes the standard concept of how a villa usually looks and turns it upside down. The use of angles and the decision to avoid straight walls and traditional architecture really creates a villa to be viewed and enjoyed.
Sat in a very scenic and peaceful mountainside location with great views over to the neighbouring island of Koh Phangan, yet the island's main ring road is only a few hundred metres away, making this an extremely convenient location for everything Samui has to offer. Positioned between the areas of Bophut and Maenam and therefore there is an infinite supply of restaurants and bars within easy reach.
The futuristic designs and the stark white exteriors actually work in this extremely natural, tropical environment, because the villa is more than just about style. This is a home with an environmental conscience and it incorporates several innovative green architectural features. The most striking of which are the grass covered roof structures which not only help the property blend in with the natural jungle foliage but also offer a natural cooling method and water preservation and collection system.
If you like contemporary styling then this villa is exceptionally aesthetically pleasing. The steps at the entrance lead you up and into the deceivingly large garden area and up to the grey slate tiled infinity swimming pool. The villa wraps around this pool in an L-shape and the pool is pointing directly at the sea view. The whole villa is elevated on this level adding to the feeling of privacy.
The triangular shaped main living area sits at the head of the pool, also enjoying the maximum benefit of the view. The front of this beautifully designed building is entirely made up of opening glass windows which not only allow you to focus on the view but also employ passive cooling techniques to naturally ventilate the space and decrease the need for air-conditioning. All rooms do have air-conditioning units but this is a very naturally cool property. As you enter via the glass doors the real style and ambience becomes immediately apparent. The chic and trendy interiors provide a light and airy living space and whilst this villa has all mod-cons, it also has a fantastic retro appeal. The use of glass, wood and stone, and the overall design features together with an excellent choice of neat but comfortable furniture, creates an attractive space. And you can't help but feel like this is the kind of spectacular villa that would make the perfect secret hideout of a "Bond villain".
A wooden panelled sloping wall which incorporates a black granite counter and the large flat-screen TV and entertainment system. This meets the contrasting white ceiling which is set at a 45 degree angle. The corner sloping wall is made with natural stone and is half inside and half outside the huge glass doors which line the rear of the room. These open into a stunning indoor garden and pool area with stone wall backdrop. Cylindrical white pillars and white floor tiles are topped with a selection of straight-lined white leather sofas, accessorized with bright blue cushions and arranged around a chrome coffee-table with floating glass surface.
If you are wowed by the exterior of this villa then the interiors continue to fascinate. To the right of this open plan space is a simple wooden-topped chrome dining table with white chairs and beyond that is a grey brick island feature with black granite surface which leads into the stylish fully-fitted kitchen. Behind is a further staff kitchen and to finish this room there's a guest bathroom. This open-plan living area has an incredibly high ceiling space which rises to the point of the triangle. Long white fans hang down and you can glimpse up to the gallery above and wonder what you'll find next. In line with the dining space is a white stone staircase encased in a glass box which takes you up and around into the atrium. At the top of the stairway you stand and face out of the front windows overlooking the extraordinary view. Directly ahead is an office/study with the back wall lined with white shelving and nestled between this and the desk, which overlooks the lounge below, is an arrangement of white leather seats. It's hard to imagine a finer area to sit and catch up on work or to simply relax and read.
To the right of the stairway a hallway leads to an en-suite bedroom which is tastefully decorated in a contemporary style to match the rest of the property. The bathroom has twin sinks, a walk-in shower and a luxurious sunken Terrazzo bathtub. Coming back downstairs, at right angles to the open-plan lounge, kitchen, and diner is a pathway running along the length of the pool with sloping stone screens on one side and access to the villa's two further en-suite bedrooms on the other. These poolside rooms are similar in design and layout to the previous bedroom with both incorporating a sunken Terrazzo bathtub.
The pool is surrounded by a white stone terrace which is perfect for sunbathing and beyond that, a well manicured lawn planted with beautiful Frangipani trees and local tropical plants wraps around the villa. An environmentally friendly villa, it is testament to the theory that a house doesn't have to lose any of its style or impact in order to protect and preserve the surrounding environment. For lovers of contemporary design this villa is a must visit property. For everyone else this a wow-factor holiday villa which is large and well laid out to provide an unforgettable visit to Samui.
Discounted prices are available for reduced occupancy, as follows:
| Bedrooms | Summer Season | High Season | Peak Season | Christmas/New Year |
| --- | --- | --- | --- | --- |
| 3 (Sleeps 6) | $400 | $500 | $550 | $700 |
| 2 (Sleeps 4) | $300 | $350 | $550 | $700 |
Summer Season dates in 2012: 15 May - 30 Jun and 1 Sep - 14 Dec.
High Season dates in 2012: 11 - 15 Jan, 1 Feb - 31 Mar, 17 Apr - 14 May and 1 Jul - 31 Aug.
Peak Season dates in 2012: 16 - 31 Jan and 1 - 16 Apr.
Christmas/New Year dates in 2012: 15 Dec - 10 Jan.
An extra bed is available for $50, all daily rates are subject to 10% service charge and 7% tax. Airport transfer is available for $35 for up to seven guests.
Architectural style: Contemporary
Structure: Single Storey Villa
Gardens: Tropical
Conditions: Excellent
Accomodation
3 Bedrooms
3 Bathrooms Ensuite
Sleeps 6
Included in Rental Price
Bed linen
Towels
Maid
Gardener
Pool cleaner
TV/Cable
Internet
Permissible
Smoking

No Smoking

Children

Children

Pets

No Pets

Cooking

Cooking
Nearby
Inland
Near Beach
Near Golf Courses
Near Yacht mooring
Near Hospitals
Near Town
Near Shopping
Available Facilities
TV/Cable
Internet
Private swimming pool
Fully furnished
Parking
Kitchen Facilities
Stovetop
Oven
Microwave oven
Refrigerator
Cooking Utensils
Dishware
Cutlery
Prices quoted in THB are converted for your convenience only and may vary 5% or more. Currency movements are out of our control and prices may change without prior warning.