Text Search


Quick Search

Your enquiry cart
is empty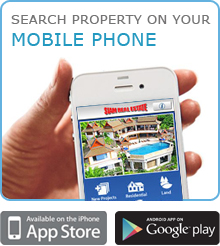 | | |
| --- | --- |
| What's New | |


| | |
| --- | --- |
| Weather Report | |


Owner's Login


Blog with expert
advice that addresses
all questions related to
Thailand property.
Read more »

Currency Converter
| | |
| --- | --- |
| Currency converters tool | |



Exchange rates


Long

Term Rental Property

Sea views to Koh Phangnan in upscale area [KSLT4489]
Type and Location: House in Bophut, Samui
Offer Terms: Rental - Longterm
Price: THB 120,000 per month
Beds: 3
Total area: 400 sq. m.
Minimum rental term: One Month
Available Now
About Bophut
Bophut is really two places: Bophut beach, which sweeps down several kilometres between Big Buddha and Maenam beaches and perhaps one of the oldest places on the island, the charming Fisherman's Village, which takes up the middle section of the beach. Fisherman's Village is fast gaining a reputation that stretches way beyond Samui for being the most elegant and well-preserved place on the island. Lined by old wooden Chinese shop-houses, interspaced with a few modern buildings that match the tone, it retains a distinctly Mediterranean feel.
CLICK HERE TO VIEW STREET VIEW
This three bedroom, three bathroom pool villa sits in the hills above Bophut. The upscale area is within close reach of Big-C and Makro, but removed from the common tourist traffic.
The two-storey villa features the best aspects of traditional Thai architecture combined with a contemporary outlook. The modified open-plan living area on the ground level features marble floors and teack architectural accents. The U-shaped Western kitchen has a stovetop, hood, oven, and dark wood cabinetry. The dining area sits adjacent. The lounge has a vaulted teak ceiling and opens out onto the pool terrace through full-length glass doors. The air-conditioning is supplemented with ceiling fans. Also on this level are laundry facilities and a guest bathroom.
Each bedroom has built-in closets and en-suite bathroom. They are large, light and airy with wood floors and outdoor terraces abounding.
The view looks over the sea to Koh Phangan.
Long Term Rental includes linens, twice weekly maid service, gardening, pool cleaning, satellite TV, and internet.
Architectural style: Thai
Structure: Two-storey, detached
Gardens: Landscaped
Accomodation
3 Bedrooms
4 Bathrooms
3 Bathrooms Ensuite
Sleeps 6
Included in Rental Price
Bed linen
Maid
Gardener
Pool cleaner
TV/Cable
Internet
Permissible
Smoking

No Smoking

Children

Children

Pets

No Pets

Cooking

Cooking
Nearby
Inland
Near Beach
Near Schooling
Near Golf Courses
Near Hospitals
Near Town
Near Shopping
Available Facilities
TV/Cable
Internet
Private swimming pool
Fully furnished
Parking
Kitchen Facilities
Stovetop
Oven
Refrigerator
Dishware
Cutlery
Service: 2x weekly maid service, pool and gardening service. Electricity and water charged separately.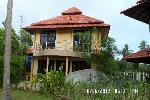 3 Bedroom 3 Bathroom Property with Landscaped Tropical Gradens [KSLT7614]
House in Bophut, Samui. THB 45,000 per month. More info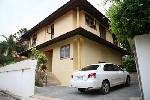 Modern Property with private parking, security and communal pool on the beach [KSLT7628]
House in Bophut, Samui. THB 55,000 per month. More info
Prices quoted in THB are converted for your convenience only and may vary 5% or more. Currency movements are out of our control and prices may change without prior warning.