Text Search


Quick Search

Your enquiry cart
is empty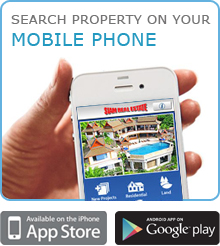 | | |
| --- | --- |
| What's New | |


| | |
| --- | --- |
| Weather Report | |


Owner's Login


Blog with expert
advice that addresses
all questions related to
Thailand property.
Read more »

Currency Converter
| | |
| --- | --- |
| Currency converters tool | |



Exchange rates


Long

Term Rental Property

Modern Property with private parking, security and communal pool on the beach [KSLT7628]
Type and Location: House in Bophut, Samui
Offer Terms: Rental - Longterm
Price: THB 55,000 per month
Beds: 4
Internal area: 190 sq. m.
Minimum rental term: 10 Days See Prices Below
Available Now
About Bophut
Bophut is really two places: Bophut beach, which sweeps down several kilometres between Big Buddha and Maenam beaches and perhaps one of the oldest places on the island, the charming Fisherman's Village, which takes up the middle section of the beach. Fisherman's Village is fast gaining a reputation that stretches way beyond Samui for being the most elegant and well-preserved place on the island. Lined by old wooden Chinese shop-houses, interspaced with a few modern buildings that match the tone, it retains a distinctly Mediterranean feel.
CLICK HERE TO VIEW STREET VIEW
This rental property is ideal for a family or two couples conveniently located close to all amenities with a huge communal swimming pool and beach bar all within a peaceful secure estate.

Property Features
- 4 bedrooms, including maid room on the first floor
- 3 very big bath rooms
- real wood floor upstairs
- a big communal gardens behind the house
- security 24 hours
- property insurance and insurance against 3rd party
- pest control
- walk about 4 minutes to the beach and communal swimming pool
- a very nice communally swimming pool on the beach and beach bar

Nearby
- 1 minutes to Cheng Mon beach
- 4 minutes from the air port
- 7 minutes from Chaweng
- 8 minutes from Big C, Tesco, Macro
- 5 minutes from Bo-Phud fisherman village
- 15 minutes from Maenamh Beach
- 15 minutes from Lamai Beach

The price:
- 10 days = 35,000 baht
- 1 month = 75,000 baht
- 6 months = 65,000 baht/month
- 1 year = 55,000 baht/month

The price does not include electricity and water bills

Maid service available charged per visit.
Architectural style: Modern
Gardens: Large Communal Gardens
Conditions: Excellent
Accomodation
4 Bedrooms
3 Bathrooms
2 Bathrooms Ensuite
Sleeps 8
Included in Rental Price
Bed linen
Towels
TV/Cable
Internet
WiFi
Estate charges
Security
Permissible
Smoking

No Smoking

Children

Children

Pets

No Pets

Cooking

Cooking
Nearby
Near Beach
Near Schooling
Near Golf Courses
Near Hospitals
Near Town
Near Shopping
Available Facilities
TV/Cable
Internet
WiFi
Communal swimming pool
Estate security
Fully furnished
Parking
Kitchen Facilities
Stovetop
Grill
Oven
Microwave oven
Refrigerator
Cooking Utensils
Dishware
Cutlery
Prices quoted in THB are converted for your convenience only and may vary 5% or more. Currency movements are out of our control and prices may change without prior warning.
Page viewed 301 times, 0.1 views/day.