Text Search


Quick Search

Your enquiry cart
is empty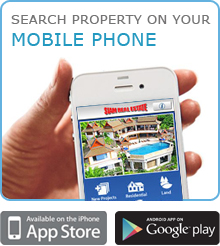 | | |
| --- | --- |
| What's New | |


| | |
| --- | --- |
| Weather Report | |


Owner's Login


Blog with expert
advice that addresses
all questions related to
Thailand property.
Read more »

Currency Converter
| | |
| --- | --- |
| Currency converters tool | |



Exchange rates


Long

Term Rental Property

3 Bedroom 3 Bathroom Property with Landscaped Tropical Gradens [KSLT7614]
Type and Location: House in Bophut, Samui
Offer Terms: Rental - Longterm
Price: THB 45,000 per month
Beds: 3
Available Now
About Bophut
Bophut is really two places: Bophut beach, which sweeps down several kilometres between Big Buddha and Maenam beaches and perhaps one of the oldest places on the island, the charming Fisherman's Village, which takes up the middle section of the beach. Fisherman's Village is fast gaining a reputation that stretches way beyond Samui for being the most elegant and well-preserved place on the island. Lined by old wooden Chinese shop-houses, interspaced with a few modern buildings that match the tone, it retains a distinctly Mediterranean feel.
CLICK HERE TO VIEW STREET VIEW
Absolutely stunning three bedroom, three bathroom free standing house available for short or long term rental.
The home is available now fully furnished with quality fixtures and fittings and offers spacious open plan living and dining areas, western style kitchen with all the mod cons.
Boasting lovely outdoor terraces looking on to manicured tropical landscaped gardens and is only two minutes walk to one of the best beaches on Samui.
Maid Include.
Included in Rental Price
Permissible
Smoking

No Smoking

Children

No Children

Pets

No Pets

Cooking

No Cooking
Nearby
Available Facilities
Kitchen Facilities
Prices quoted in THB are converted for your convenience only and may vary 5% or more. Currency movements are out of our control and prices may change without prior warning.
Page viewed 2,189 times, 0.5 views/day.