Text Search


Quick Search

Your enquiry cart
is empty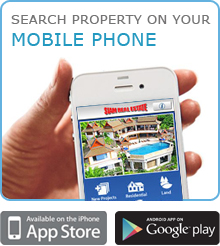 | | |
| --- | --- |
| What's New | |


| | |
| --- | --- |
| Weather Report | |


Owner's Login


Blog with expert
advice that addresses
all questions related to
Thailand property.
Read more »

Currency Converter
| | |
| --- | --- |
| Currency converters tool | |



Exchange rates


Holiday

Rental Property

Fully-furnished modern serviced pool villa with luxury fixtures and fittings [HOL2522]
Type and Location: House in Layan, Phuket
Offer Terms: Rental - Holiday
Beds: 3
Minimum rental term: 3 nights
Summer Season
1 Jun - 30 Sep
High Season
1 Oct - 30 Nov
1 Feb - 31 May
Peak Season
1 Dec - 31 Jan
Daily
Weekly
* Monthly refers to 30 days.
How is my total rental calculated?
Rental rates vary by season and duration-of-stay. Consequently, it is necessary to look at each night of your stay and determine the applicable rate for that night.
For example, consider a 10-night stay, comprised of 4 nights in summer season and 6 nights in high season.
Since the stay is more than a week, the weekly rate will apply for all the nights of your stay. For each night, we determine the applicable season, consult the weekly rate for that season, divide that weekly rate by 7 to get a nightly rate, and add that amount to a running total.
In our example, the first 4 nights will use the summer season weekly rate (divided by 7), the last six nights will use the high-season weekly rate (divided by 7).
For a property that does not specify weekly or monthly rates, the daily rate for the applicable season is applied for each night of the stay.
About Layan
North of Bang Tao beach, Layan is a little known beach and always very quiet. A beautiful stretch of white sand, tree lined and with only one restaurant and a small shop, Layan is nothing like most Phuket beaches. A handful of sunbeds are provided near the restaurant, but the rest of the beach is untouched. A short drive past Laguna will bring you to this hidden gem.
CLICK HERE TO VIEW STREET VIEW
These rental villas are designed and constructed with great care and detail in order to control quality and theme. This 3 bedroom holiday home is situated in a tranquil residential area of Phuket, close to the beach with local amenities nearby, ideal to make holiday's memorable experiences for family and friends. These stunning properties provide a luxury self-catering experience in stylish, fully-furnished modern tropical villas, each with a private pool garden in tranquil surroundings. Enjoy your time in Phuket within a modern Thai-style pool villa, built to international standards, complimented by a full range of guest services on a par with those of Phuket's high-end resorts.
This luxury 3 bedroom villa is set within a peaceful community in the exclusive Layan area of Phuket. The villas are located for easy access to Banyan tree golf course and nearby tourist attractions, including Layan Beach, Bang Tao Beach and Surin Beach. The tranquil surroundings of these superior holiday villas are the perfect tropical getaway for friends and family looking for a luxurious holiday experience.
The exotic design ensures all the rooms are situated around the swimming pool, looking out to the superb tropically landscaped garden, which is laden with flowers and shrubs, and surrounded by a 2.5 metre high perimeter wall that offers the utmost in security and seclusion. The pool clings to a nice wooden deck, which is ideal for relaxing those sunny days away on a sun lounger.
The tropical open-plan living space provides air-conditioning, ceiling fans, a settee, armchair and stools. There is also a home theatre set comprising a 29-inch flat-screen TV and DVD / CD player. Other utilities available for your use include Cable TV with 40 international channels, CDMA internet connection and an additional mobile phone. What I like most about the living area is the direct access to poolside through the high patio windows. The adjoining dining room owns an elegant wooden table and matching floor units. The contemporary feel of this villa is personified by the gleaming white ceramic tiled floors and painted white walls.
The western standard kitchen is set-up by ABSOLUTE - one of the leading kitchen companies in Thailand. The kitchen is fully equipped with appliances such as hob, hood, sink, microwave, toaster, kettle, fridge and utensil such as pots, pans, ladles and knifes, alongside dishware that includes plates, dishes, spoons, forks and a variety of glasses.
The bedrooms are superbly designed with wooden King-size beds, built-in wardrobes, air-con, an electronic safe, alongside a stunning en-suite bathroom that is equipped with a shower and hot and cold running water. The Master Bedroom owns a four-post bed and a large bathtub. The gleaming white decor of the rooms also offers direct access and views out to poolside through high windows.
The services include fresh bed linen and towels, a gardener and a pool cleaner. The rental agreement stipulates a minimum of 3 days stay – and believe me, you will want to stay longer within this beautiful environment.
Architectural style: Modern
Gardens: Tropical, Landscaped
Conditions: Good
Accomodation
3 Bedrooms
4 Bathrooms
3 Bathrooms Ensuite
Sleeps 6
Included in Rental Price
Bed linen
Towels
Gardener
Pool cleaner
Estate charges
Security
Permissible
Smoking

Smoking

Children

Children

Pets

No Pets

Cooking

Cooking
Nearby
Inland
Near Beach
Near Schooling
Near Golf Courses
Near Shopping
Available Facilities
TV/Cable
Internet
Telephone
Private swimming pool
Estate security
Fully furnished
Parking
Jacuzzi outside
Kitchen Facilities
Stovetop
Microwave oven
Refrigerator
Dishware
Cutlery
Prices quoted in THB are converted for your convenience only and may vary 5% or more. Currency movements are out of our control and prices may change without prior warning.
Page viewed 682 times, 0.1 views/day.